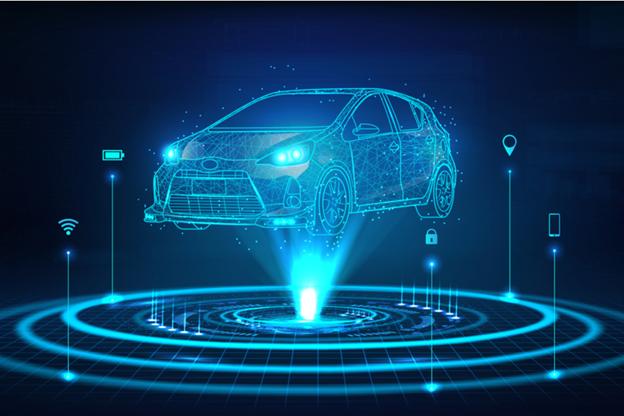 Technology drives the future, and AI is slowly taking the wheel and navigating roads as new advances merge into automotive features. Automotive manufacturers are consistently embracing ways to simplify navigation, improve driver safety, and implement many new features powered by technology.
Are the machines taking over? The self-driving car isn't so far out of reach now. Yet, even our most basic model automobiles incorporate some type of technology that we once thought was space-age.
Ready to see how technology has taken over the driver's seat? Buckle up as we explore the current state of automotive technology and get a glimpse into the future to see what new technology may await us on the digital superhighway.

Automotive Tech Today
Unless you drive a much older automobile, your car likely has some amazing tech within its dashboard. Some of these high-tech features we simply take for granted as basic and don't think twice about using them.
We live in a world where nearly every single teenager has a smartphone, so it really should come as no surprise that technological devices have also become intermingled into our cars. Check out these features that you're likely to find in your car today:
Front and Rear Cameras
What did we do without our backup cameras? Some of us might have had a few minor fender benders that dinged up the front or back of our cars. Backup cameras are now a fairly common feature.
Many of them utilize augmented reality to give us a glimpse of the turning radius of our car. We can glimpse up at a small screen and see the angle as we back out of a parking space. We also can see obstacles or pedestrians–some backup cameras also have sensors that beep to alert us of objects in our way. These features can minimize accidents…and maybe liability too.
Larger cars and SUVs also are equipped with front or side cameras to view the car from all angles. Again, these cameras help us easily back into or pull into tight spots. We can see all the vantage points of the car, and a sensor may notify us that the car is getting close to hitting an object. Some cars may even offer an automatic stop feature when the car gets too close to a pedestrian or object.
Smart Rearview Mirrors
Newer model cars may offer an upgraded rear view mirror that utilizes the backup camera. The 'smart rearview mirror' projects the image recorded from the backup camera. Smart rearview mirrors provide clearer views to drivers as they navigate roads at night or when they enter dark enclosures like parking garages.
Digital Dashboards
Those who have been driving for a few decades clearly remember the old-school dashboard. There was nothing high-tech about the older models. Information about gas, mileage, and speed were either represented by a meter-type gadget or rolling numbers (for mileage).
Slowly, digital took over and the dashboard took on a tech-savvy appearance. Now, the dashboard is more like a mini-computer screen. Drivers can click through different menus to view information about the vehicle. Even basic model vehicles include high-tech looking dashboards.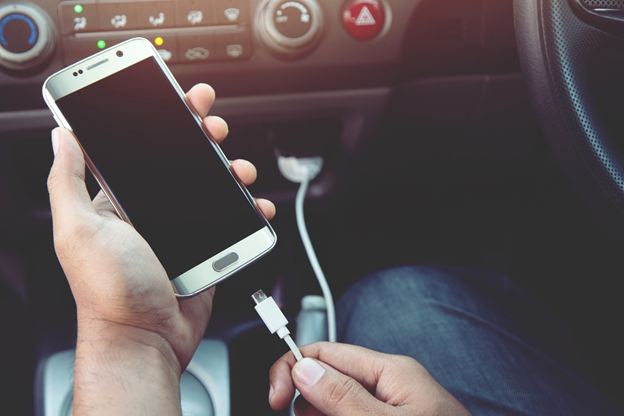 Plug In While Driving
When everyone has a smartphone, the fear of missing out is real. Most of us cannot stand to separate from our devices; the phone has all our appointments, messages, numbers and is our constant ticket to the online world.
Your smartphone can project GPS functions onto a screen in the car. You can make and answer calls while driving when your phone is hooked into the vehicle. Don't want to listen to the radio? Queue up your own playlist! Yes, your car lets you stream your favorite tunes, too. You can also send text messages.
While our vehicles seamlessly incorporate our smartphones into the drive time, is this digital connection safe? Distracted driving accounted for more than 2,800 deaths in 2018.
Distracted driving includes any task that distracts from driving; fidgeting with the radio, talking on the phone or texting, eating, and adjusting temperature controls can all be distractions. Drivers should always use common sense and follow the rules of the road when driving. All drivers also should understand distracted driving laws in their state. Teen drivers should have a cell phone contract that stipulates no cell phone use while driving!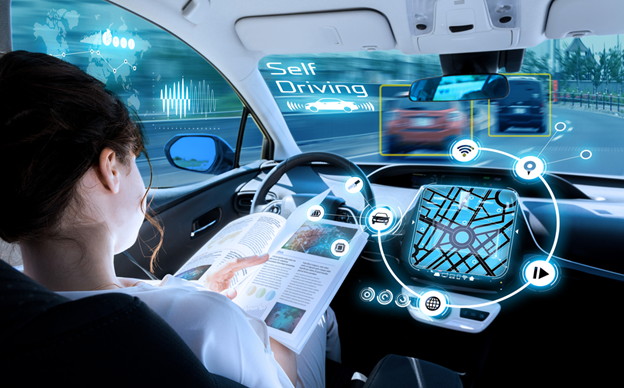 Technology of the Future
While many tech features already are wired into our cars, the future of automotive technology could be out of this world. There are some interesting advances on the horizon.
The Augmented Reality Windshield
Patently Apple reported that Apple filed a patent for a very unique windshield that is classified as "an augmented reality windshield." This windshield would "Support FaceTime Calls Between Different Vehicles." The future may include the capability of teleconferencing on the road. This means that traffic would no longer be an excuse for missing meetings!
The Self-Driving Car
Tesla has already developed a self-driving car. The future may include a car that puts humans in the passenger seat. Our control behind the wheel may be limited, but how self-driving cars look is anyone's best guess. Will there be an avatar projected in the front seat that takes on our appearance? Will there be no driver's seat?
For the self-driving car to become the norm, all safety features must be perfected. When we imagine our cars being navigated by computer, the vision of the road becomes quite pixelated. Letting go of our control could be a good thing, though. When the computer takes over, no one will have to worry about intoxicated drivers.  Safety and navigation will be so accurate that accidents will be greatly minimized.
A self-driving car, though, could require much more maintenance. Safety standards may have to be consistently checked and documented, and car inspections could be more frequent. Ultimately, one tiny glitch could be hazardous on the road.
Baby Cam
Nationwide published an infographic of all the upcoming car technologies of the future. One of the most interesting for parents? Baby cam! This convenient camera lets you check in on the baby in the back seat.
While parents can buy these cameras from online retailers, these cameras could make their way into standard car features. Perhaps the camera could be linked to a sensor in the car seat that sends an alert if a baby is left behind. Maybe these cameras can even stream into the phone for an added safety feature.
Technology is positioned to take over the driver's seat in our cars. While many models include backup cameras and other digital features, the future of car technology could be out of this world. Self-driving cars could navigate our highways and byways, and an augmented reality windshield could allow us to teleconference from our cars.
The future of automotive technology is accelerated by the ingenuity of engineers and designers; what the future holds is anyone's best guess!