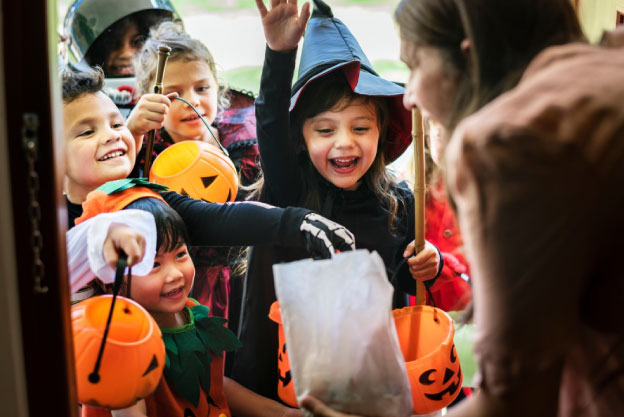 The night for fright, silly jokes, ghoulishness and trick-or-treating is coming up fast. For many families, purchasing costumes from the store, though, just isn't in the budget. Even the flimsiest costumes at budget retailers can cost nearly $20; when you're trying to save money or pay down debt, dropping extra cash on a one-night costume just doesn't make sense.
Don't assume that a tight budget can scare you away from giving kids a happy Halloween.  With a little creativity, your kids can look frightfully scary, crazy silly or perfectly pretty for a night of candy, jokes and late night fun.
Get ready to DIY!
Here are 10 of the easiest costumes to make for kids when the budget won't budge:
All you need is a clear garbage bag, lots of balloons and a creative sign! How do you make it?
Your child is going to wear the bag as the costume, so you'll need to cut holes for legs and arms. This isn't difficult, but you may have a little trial and error for it to look right—thankfully, dollar stores sell trash bags or even clear gift bags (another easy option). Blow up lots of colorful balloons and stuff them into the bag. Add a sign on the front that reads "Jelly Beans" or whatever brand of beans you'd like to reference. You may need to add a colorful closure tie to the top, so the balloons don't escape. Just make sure the tie is comfortable for your child.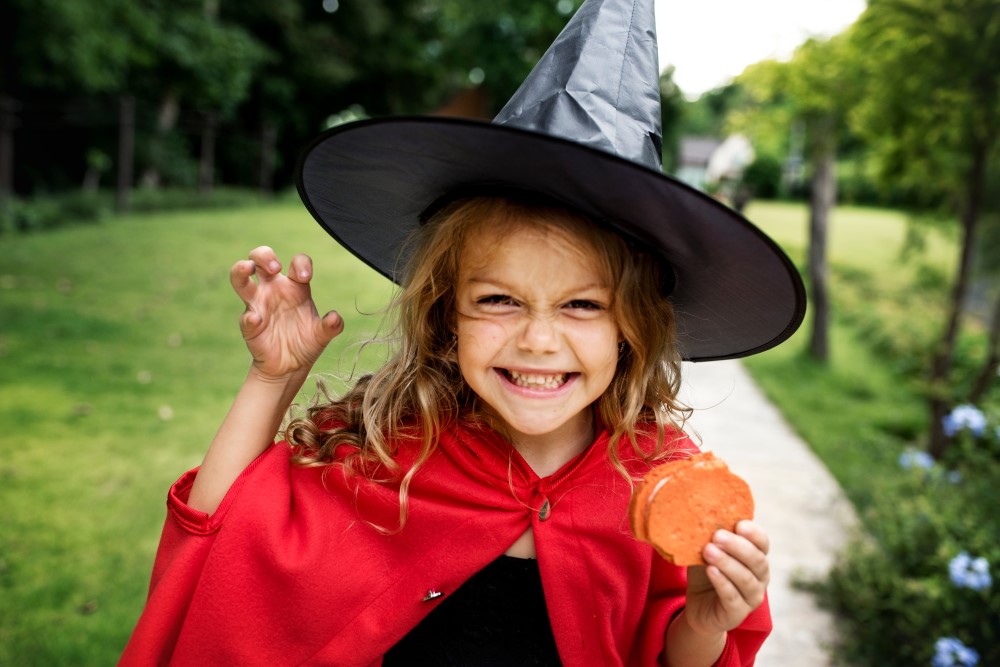 Easy Vampire or Witch
You don't need to buy a pre-made costume for a witchy or vampy Halloween. Head to the thrift store to score a budget option for this popular costume.
You can find a long black dress and use it as the base for the costume. Or opt for black pants and a black coat. Need a cape? Many thrift stores also sell cheap Halloween accessories, and capes are usually on the racks. You can hunt for a black sheet or blanket, though, to craft a quick cape. Fangs can be found cheaply at most stores, and never forget to check dollar stores (they also may have capes!).
Need witchy accessories? Score a hat for $1 at Dollar Tree. Use regular red or black lipstick for both witch/vampire make-up (cheap red lipstick can be used to create a blood-tinged mouth around fangs).
'80s Kid
Create a totally awesome outfit with a little hunting at the thrift stores or garage sales. Finding 80s fashions is a snap, and you can create a unique look for, like, nothing, ok?
Tightly roll jeans, add a big sweater and a side ponytail. Or hunt down a classic bubble skirt or outrageously patterned tops or pants. The crazier the better!
And don't forget to tease that hair and hold that style with LOTS of hairspray. For makeup, use blue shadow and frosty lipstick.
Princess
Many kids want to dress up as a princess. This is a really easy costume to create, because you just need a dress, tiara, cute shoes (or not…kids can wear something comfy) and a little makeup. Again, purchase dresses on the cheap at a thrift store. Or use an old bridesmaids dress and cut it down (if you are good with a sewing machine).
Buy a cheap tiara at a dollar store, and you're all set.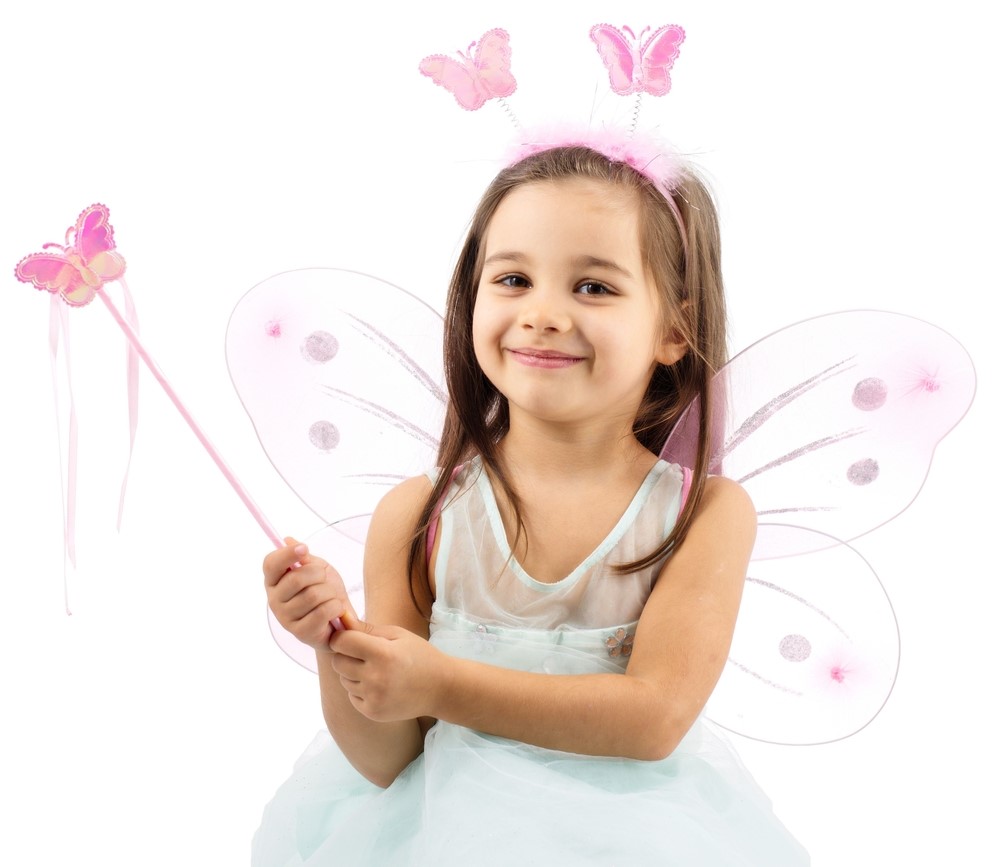 Fairy Princess
Does your child want to add wings to the classic princess costume? For a fairy princess option, create wings from foam core board and have your child decorate them with paint, glitter glue and sequins. Use string to tie them on. Instructables offers a tutorial on crafting wings from cellophane, and this material creates a gorgeous fairytale look (plus, it's pretty easy).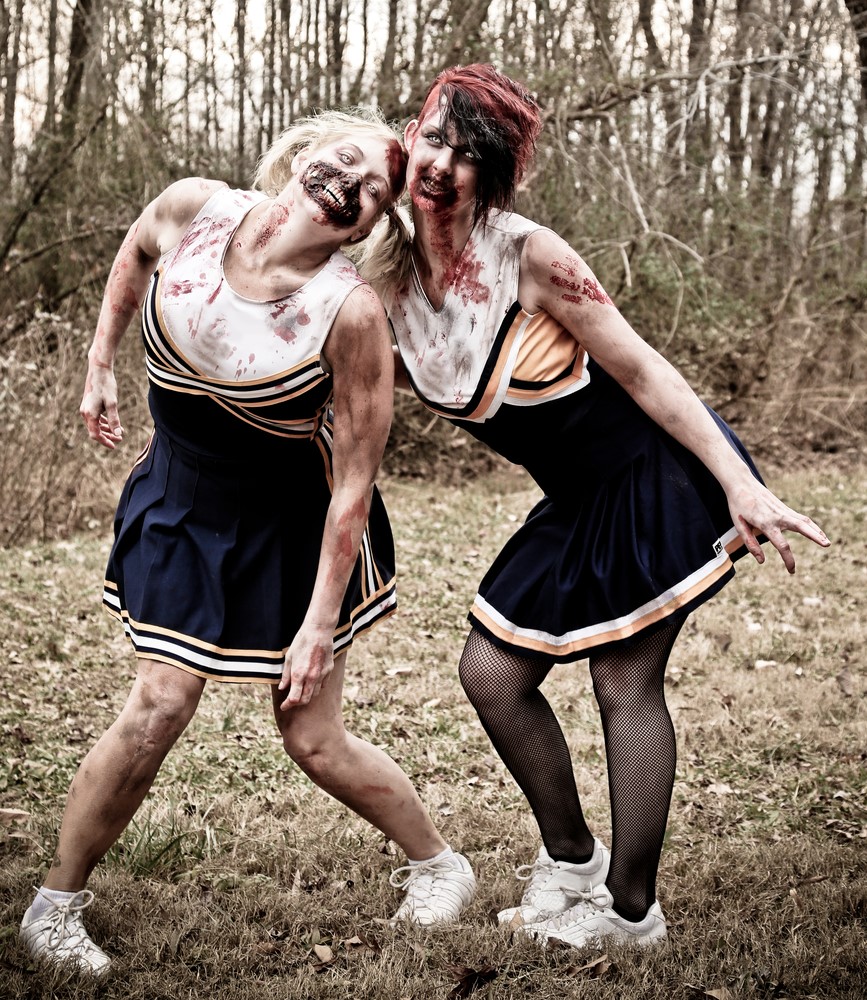 Zombie
Be one of the undead with old clothes and lots of creepy makeup. Have old jeans on hand? Rip them up to look tattered. Grab an old shirt and paint it with fake blood. Mess up hair and use hair chalk for a funky color (opt for a blue tinge). The rest is all about the makeup! Be sure to add red blood around the mouth, dark rings around the eyes and maybe draw on a few scars or other details. Your zombie can look however you wish!
  A Lego Piece
Lifehack has an amazing tutorial for an easy Lego block costume. All you need is a box, some spray paint (or any paint) and some plastic cups (although Lifehack recommends Styrofoam cylinders). You can choose whatever color you want for this costume. This is super cute, so easy…and really inexpensive!
A Bag of Money!
Like the bag of jelly beans, a bag of money is a really easy option to craft a few nights before the big day. You'll need a big burlap sack and a lot of play money. Glue the fake money around the edges of the sack and add a dollar sign to the front (you can craft this with felt and glue it on). Cut out holes for the legs and arms and use twine to tie the top (make sure this is comfortable for your child).
  A Creepy Clown
With creepy clowns killing it at the Box Office, opt for a scary costume that mixes in a chaotic carnival theme. You don't necessarily need the standard clown suit. Your child can wear whatever clothes work for them. Again, the creepy factor is all about the killer makeup.
Plastic fangs add a fierce factor for the traditionally happy go-lucky clown. Mess up hair and use hair chalk to color the hair different hues. You can find plastic swords or other scary accessories for cheap at dollar stores (these are optional, though).
Need a tutorial for creepy clown makeup? Check out YouTube for all the crazy how-to videos.
If the budget is threatening to kill the fun in your Halloween, opt for easy DIY costume ideas that save money and look just as great as store options. You don't have to be a craft wizard to create any of these looks, and there are many tutorials to help you along the way. The best part? Many of these costumes can be reused or re-imagined next year!
More Resources