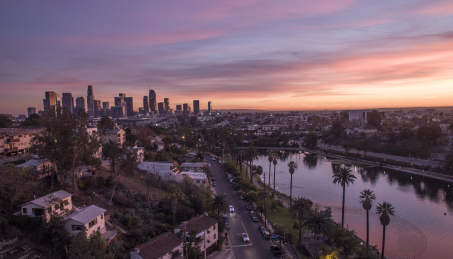 Get a Los Angeles Car Title Loan from $2,510 to $50,000!
How Do Car Title Loans in Los Angeles Work
As one of the foremost industry leaders in Car Title Loans, 1(800)Car-Title® has been serving the Los Angeles area for 16 years!  We have assisted thousands of people in Los Angeles by helping them receive a loan quickly when they had few other options. Our headquarters are based right here in Los Angeles, and we look forward to providing loans to our fellow Los Angelinos for years to come!
Car title loans in Los Angeles are small, cash loans where the borrower leverages the value of their car as collateral to secure the loan. Many other loans are used for specific purchases, but the money from a car title loan, also known as an auto title loan in Los Angeles and elsewhere, is used at the borrower's discretion. One can use a car title loan to pay off overdue bills, to handle emergency situations, or they can put the money as a down payment for a bigger purchase. As long as the borrower makes their monthly installment payments on time, they continue to drive their car and use the cash loan how they want.
Loans amounts are based on factors like the borrower's credit, bank account statements and employment history. The lender looks at these variables and decides whether the potential borrower can handle the responsibility of a loan. Collateral is something of value that secures the loan for the bank in case of losses. For example, when a borrower uses a mortgage to finance a new home, the house is used as the collateral for the loan.
Many people will run into financial problems eventually. 1(800)Car-Title® is here to help you get the monetary help you need. We want to give our customers great deals with reasonable terms for repayment to assist you in your time of need. Contact a 1(800)Car-Title® loan officer today to see how our auto title loanapproval process can help you fix your financial problems today.
Getting approved for car title loans in Los Angeles is fast and easy. If your vehicle is paid off or almost paid off, you may be eligible for a Los Angeles car title loan by using your vehicle as collateral. So if you need $2,510 or more NOW, follow these four steps for the loan approval process:
Fill out the short form to the right for a free, no obligation title loan quote
Speak to one of our friendly Loan Officers
Submit all necessary documents and proof of income
Get approved and Pick up your cash
Consumers trust 1(800)Car-Title® as their preferred car title loan lender every month, why not you?
1(800)Car-Title® offers:
Competitive interest rates
Speedy funding
Flexible payment terms
Friendly customer service
Our products and services
At 1(800)Car-Title® we are among the industry leaders in providing car title loans and services. We offer traditional car title loans that will get you the cash you need to get out of a bind. You just need to get pre-approved, go through the approval process, and spend the money at your own discretion.  Did you know that our pink slip loans (another way to describe our type of loan) apply to other vehicles besides automobiles?
We also offer motorcycle and RV title loans to potentially give you further flexibility in loan amount as well as ability to qualify. If you would feel better securing your loan with your RV or your motorcycle, we can do that. We want to accommodate the needs of you and our other customers.
We can also refinance your current loan so you can potentially lower your monthly payment, have a lower APR, or even borrow more money,. Refinancing is a great way to take control of your financial situation as your credit improves.
What If I Have More Questions
1(800)Car-Title® has the answers to your questions. We want to facilitate obtaining a car title loan as much as possible. Feel free to give us a call and we will answer your questions.
First, take a look at our Frequently Asked Questions page. We have compiled the answers to many common questions customers have about the car title loan process.
You can also contact us if you have any more questions you need to be answered.
We want to help you.
Other Store Loan Locations
No matter where you live in California, be it Los Angeles or elsewhere, 1(800)Car-Title® is here to help. We have car title locations all over the state of California including stores in Los Angeles, where we can get you a title loan. To make it easy, you can apply online or over the phone, and once you are approved, you can go to one of our partner locations and pick up your money. We've listed a few of our store locations below, but there are more! Just use our store locator to find one that is closest to you.
Los Angeles
1(800)Car-Title® – Headquarters
4727 Wilshire Blvd
Los Angeles CA 90010
800-227-8485
Lic Number 603-8329
San Diego
The Check Cashing Place
7808 Broadway
Lemon Grove CA 91945
800 227-8485
Lic Number 603I951
Riverside 
CFS Investments
4030 Tyler St
Riverside CA 92503
800 227-8485
Lic Number 60DBO-48742
Rancho Cucamonga
RYMS Financial Services, Inc
9339 Foothill Blvd, STE #F
Rancho Cucamonga CA 91730
800 227-8485
Lic Number RYMS Financial Services, Inc
Long Beach 
Orange Rocket
6640 Cherry Ave
Long Beach CA 90805
800-227-8485
Lic Number 603K981