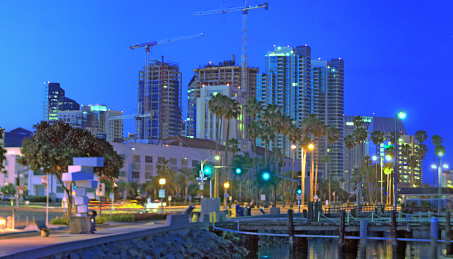 Get a loan up to $50,000 today with San Diego Car Title Loans!
Getting an Auto Title Loan in San Diego
In San Diego, car title loans, or auto title loans, are small cash loans where the borrower puts up their car's title as collateral to secure their loan. Traditional loans from banks are used for a specific purchase, but money from a car title loan can be spent by the borrower in whatever way he or she sees fit. A borrower in San Diego can use a car title loan to pay overdue bills, use the money as a down payment, or spend the money in his/her discretion. Whatever the reason, a car title loan in San Diego can help you in a wide variety of situations. And the best part is, you can keep driving your car while you pay off the loan.
Many people experience money trouble in their life. 1(800)Car-Title® is here to help you get the financial help you need. We strive to get our customers great deals with fair terms. We are here to help. Speak with a 1(800)Car-Title® loan officer today to see what steps you can take to fix your money problems today.
If you have a car, you can use it as collateral to borrow over $2,510 from us fast. With a car title loan, you keep your car while we hold on to your pink slip. We can get you the cash you need fast if you live in San Diego.
Loan Requirements For Auto Title Loans in San Diego
In San Diego auto title loans use your vehicle as collateral, typical variables which determine creditworthiness, like your credit score and employment history, are not as important as they are with a traditional loan. We still look at them and they do still play a part in the loan approval process, but they're not as large of a factor as in other loan types.
To qualify for title loans in San Diego you'll need to meet the following requirements:
The requested loan meet or exceed the state minimum loan amount of $2,510
The car must be worth more than the requested loan amount
The borrower must show how he or she will repay the loan amount
1(800)Car-Title® will verify if your vehicle's title is eligible to be security for a loan. From there you make your payments, drive your car, and spend the money we loan you as you see fit.
We avoid repayment issues by looking at your ability to pay back the loan. For most people that means we look at their employment history and use income verification to make sure the loan isn't too burdensome for you. But that doesn't mean you need to be employed to get a car title loan. Other sources of income are considered. A loan officer can help you find out if you're qualified for one of our San Diego car title loans.
Just fill out the online application on this page and a loan officer will contact you to find out how much money you are eligible to get from 1(800)Car-Title®.
Check out our Competitive Rate Auto Title Loans for San Diego Residents
We pride ourselves on having some of the most competitive rate title loans in California and will work to offer you flexible payment terms. When you get a title loan from 1(800)Car-Title®, we give you the cash you need fast. Our competitive rates start as low as 35.99% APR* with our Gold Program.
If you already have a car title loan with someone else and feel that you are being gouged by high rates, you may be able to save money each month by refinancing the title loan with us.
Call us today at (866) 553-3846 or fill out the form on the right to get started.