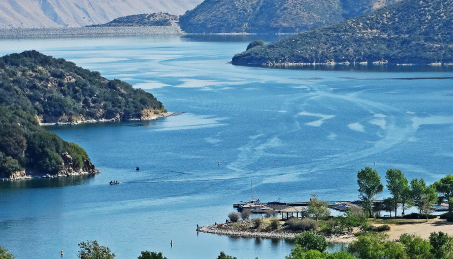 What Does 1(800)Car-Title® Offer Me for San Bernardino Title Loans?
 If you need cash now and you are having difficulty getting approved for a loan, then 1(800)Car-Title® might be the perfect fit for you.
We at 1(800)Car-Title® offer car title loans so you can get the cash you need. It doesn't matter if your vehicle title is for a car, motorcycle, or RV, our experienced loan officers can help. Keep in mind that, if you qualify, you're guaranteed a loan of at least $2,510 dollars. Just think of all the good that money could do for you in your life. Just apply using the online form on this page, or give us a call to get started.
In addition, we also offer refinancing if you already have a car title loan. Whether you borrowed money from us or you borrowed money from another company, our auto title loan refinancing services could get you a better deal. With a car title loan refinance, you could reduce your annual percentage rate (APR,) lower your monthly payment, or borrow more money.
How Do Auto Title Loans Work in San Bernardino, California?
 Car title loans use your car's title as collateral, which makes the process of getting approved for a loan much easier than going to a bank. If you have less than perfect credit, or you have had trouble getting a loan from other lenders, you could get a title loan based on the value of your vehicle.  Once you borrow the money, you will be able to keep your vehicle during the entire process. Whatever your reason for seeking some extra money, a car title loan from 1(800)Car-Title® can help you out.
 I Want To Know More About Auto Title Loans From San Bernardino, California
If you have more questions, we have more answers. One of our loan officers can help answer any of the questions you might have about the process. They can answer questions about the requirements, explain the terms, and can even help you refinance if you have a loan with another lender.
Financial decisions are best made when you have all the necessary information and we strive to make the process easy to understand. You can also check out our frequently asked questions section to see if we have already answered some of your questions. Inquiries about San Bernardino, California auto title loans are common and we have a collection of answers for many of them. We hope these answers clear up any concerns or misconceptions you have.
What Makes 1(800)Car-Title®'s Car Title Loans in San Bernardino, California Great?
We know San Bernardino is a great place, in fact we have a cool article about San Bernardino here. That's a great question. At 1(800)Car-Title®, we strive to have great lending practices. Just talk with one of our loan officers and you'll quickly see the level of our customer service. They'll let you know if your vehicle title qualifies for a loan. We've trained our 1(800)Car-Title® employees to be as helpful as possible.
We've spent a lot of time to provide a product of which we can be proud. We put our reputation on the line with our customers and try to help them see why a San Bernardino, California car title loan with 1(800)Car-Title® is the right choice for them.