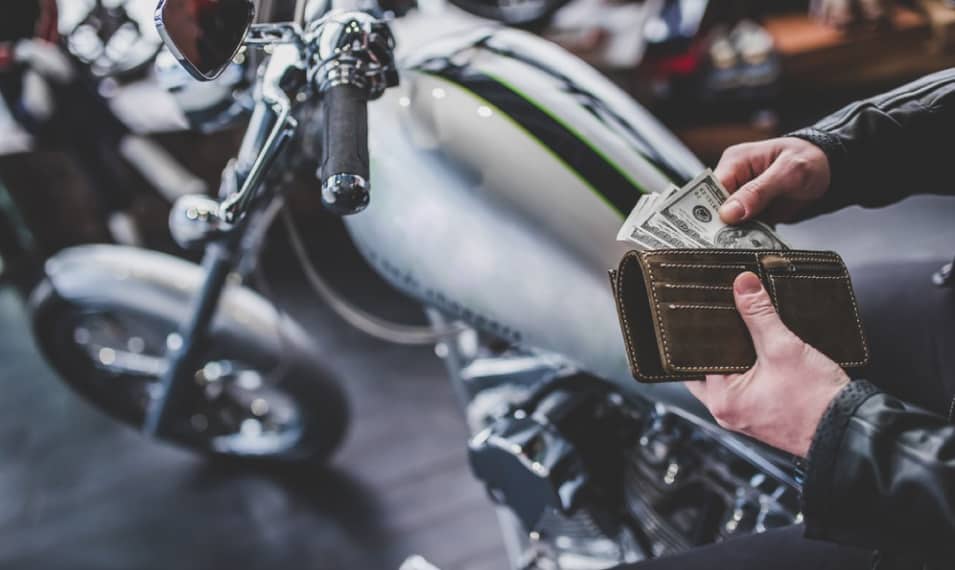 1(800)Car-Title® is one of the top title loan companies in the nation. We have been in business for over 15 years and continue to provide our excellent service thanks to our customers. We are the title loan company of choice when customers need fast cash.
One of our top products are Motorcycle Title Loans, another way to help our customers get the cash they need. A motorcycle title loan is a secured loan where you borrow money using your motorcycle as collateral. With a motorcycle title loan, you can borrow up to $4,000 in cash.
How do I get a Motorcycle Title Loan with 1(800)Car-Title®?
Getting a Motorcycle Title Loan with 1(800)Car-Title® has never been faster. You can call one of our friendly Loan Officers and discuss loan options. The Loan Officer will inform you if your motorcycle qualifies, how much cash you can get and the documents you need to submit.
When all documents have been submitted and your motorcycle title loan is approved, the Loan Officer will help you get the cash as fast as possible. Just like any other title loan, you get to keep driving your motorcycle while you pay back the loan, and there are no pre-payment penalties.
Applying for Motorcycle Title Loans
So what do you need to do to get a motorcycle title loan? You'll need the title to your motorcycle, but if you can't find it, don't stress. We can still work with you and assist you with the process of obtaining your title!
The approval process also involves reviewing your credit score. Although a low score doesn't necessarily mean that your application will be rejected, it is a factor that is considered when determining eligibility and terms of the loan.
We often work with those who have less than desirable credit. Your credit score will be used to help determine the interest rate on your loan; a low score may mean higher rates.
Many applicants also wonder why there is a lending cap on motorcycle title loans. And why don't luxury or high-end models qualify for a higher loan value?
Motorcycles are a niche vehicle, and while there are many high-end models with high-dollar price tags, motorcycles typically do not carry the same equity an automobile.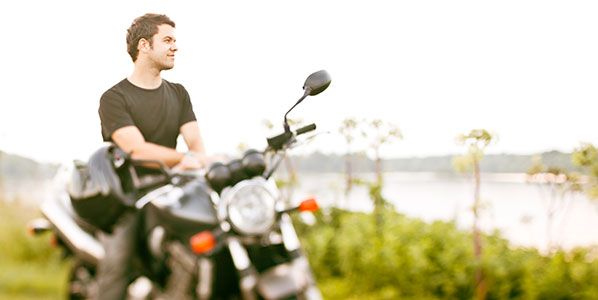 Can everyone get a $4,000 with motorcycle title loans?
So do all motorcycles qualify for up to $4,000? Like any title loan, a motorcycle title loan is based on many factors that affect the resale value of the vehicle. The mileage, make/model, age and condition of your motorcycle all affect its equity value…and the value of the loan.
Your motorcycle may be worth less than $4,000, but, again, the final loan value depends on many factors. If you have any questions about the value of your motorcycle, reach out to one of our loan specialists. They can help explain how the value was determined and what factors may have lowered the resale value.
Loan Terms & Conditions for Motorcycle Title Loans
Your loan contract will include all the details about the terms and conditions of your motorcycle title loan. Read over the contract so you understand your repayment obligations.
The contract will include your interest rate and APR as well as any loan fees. You also should review monthly payment details so you can budget for the future.
How soon can I get my cash?
Once you're approved for your loan, your money may be available as soon as the same day. The actual time may depend on various factors such as method of cash delivery, time of loan approval, and many other factors. If you have any questions or concerns about how quickly you can access your cash, please let us know.
When you want to use your motorcycle to secure the cash you need, fill out our online form to receive a free loan quote. Or call us at 800-227-8485 and talk to one of our loan specialists. Do not wait any longer; make your motorcycle work for you. Apply today for a motorcycle title loan.
More Resources