Disclaimer: The contents of this website are intended to convey general information only and not to provide legal advice or opinions. Users of this website should contact their attorney to obtain advice with respect to any particular legal matter, including bankruptcy. No reader, user, or browser of this site should act or refrain from acting on the basis of information on this site without first seeking legal advice from counsel in the relevant jurisdiction.
When drowning in debt, you might ask yourself: should I file bankruptcy? As Nolo points out, earning too much money a year can leave you unable to file for Chapter 7 (which wipes out dischargeable debt). Failing the 'means test' for Chapter 7 may leave debtors to look into filing Chapter 13 instead.
Should I File Bankruptcy? Chapter 7 vs. Chapter 13
Filing bankruptcy as a consumer (not a business) offers two options: Chapter 7 and Chapter 13. There are many differences between these two filings.
In Chapter 7, you can lose your property, because everything you own (that isn't exempt) can be sold to pay off creditors. Filers are allowed certain amounts of property that they can keep (known as exemptions) and these exemption guidelines may vary by state. You can lose your home, car or other property if the equity value exceeds the equity exemption allowed.
However, in Chapter 13, your property is usually unaffected. Experian notes that Chapter 13 is a "reorganization bankruptcy," and you continue to make payments to creditors. However, if you fail to adhere to these payments, then your property could be affected.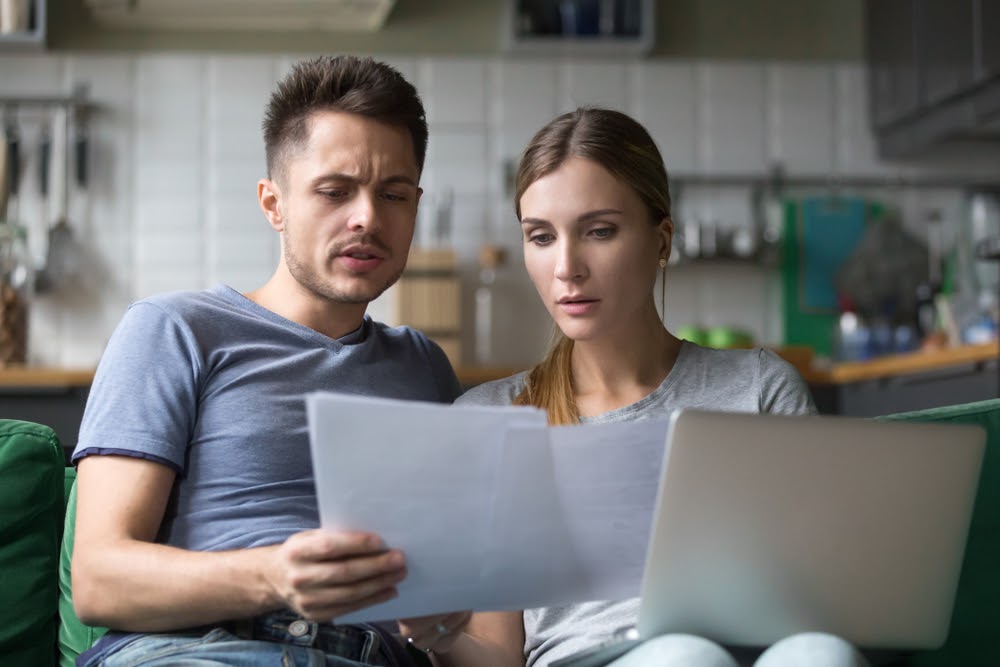 Cost to File Bankruptcy
The costs associated with filing bankruptcy may exceed what those who are struggling can afford financially. For some families, filing for bankruptcy is financially unfeasible.
To file for Chapter 7, the costs can soar beyond $1,000 with filing costs and attorney fees (the filing fees varies by state). The bankruptcy law changes made in 2005 also stipulated that those who file for bankruptcy must complete a credit counseling course. Costs may also nudge higher if you want to file a reaffirmation agreement on a loan.
What does it mean to reaffirm? If your home or car has an equity value below the exemption amount and your payments are affordable, you may elect to reaffirm the loan. A reaffirmation agreement basically means that the debt remains yours—you `reaffirm' the terms of the loan. An attorney may advise against entering into a reaffirmation agreement because it leaves the debtor vulnerable in the future.
If you reaffirm a loan and two years later run into more financial struggles, you are legally obligated to pay the debt…whether you can or not. Your failure to meet the financial agreement could lead to repossession or civil action from lenders to demand payment. If you don't reaffirm a loan, the debt is legally discharged in bankruptcy (Chapter 7) and a lender cannot take legal action. You can elect to keep paying mortgage or car payments (if the vehicle or home wasn't sold during bankruptcy). However, the lender still holds a lien on the secured property.
How Long Does Bankruptcy Stay on Your Credit Report?
If you have elected to file for bankruptcy, you may be curious as to how long the bankruptcy will affect your credit. Unfortunately, Chapter 7 stays on a credit report for about 10 years. However, Chapter 13 only dings your credit report for seven years.
There is a bit of good news, though. The damage that the bankruptcy does to the score may dissipate year to year. While you will see a huge hit when you file, your credit score may begin to improve a bit after several years. Full recovery, though, may take the full 7-10 years (depending on the type of bankruptcy).
Credit Cards After Bankruptcy
If you filed Chapter 7 or Chapter 13 because you were drowning in credit card debt, you may be hesitant to ever sign up for a credit card again. Your concerns are understandable.
One of the biggest goals after bankruptcy, though, should be to repair your credit. Remember, bankruptcy will stay on your credit report for up to 10 years (for Chapter 7). During that time, it is important to re-establish your creditworthiness and there are ways to get loans even with bad credit. 
You may find it difficult to obtain a car or other types of loans, or your interest rate may be incredibly high because of the low credit score. Building credit in a positive way may help you secure better rates in the future.
Experian notes that after the bankruptcy is discharged, you could try to apply for a credit card. However, those interest rates will likely be higher. As long as you pay down the balance each month, this won't be an issue. Misusing that credit, though, could get you in a lot of trouble financially if you're stuck paying high interest.
If you don't want to take on another credit card, or if you don't trust yourself financially to be responsible with a new card, there are other ways to rebuild credit. If you reaffirmed a loan, the lender will likely report your payments to the credit bureaus. As long as you pay on time, this will help bump your credit score in the future. Paying other bills on time also could bump your score.
Can You File Bankruptcy on Student Loans
So you could not get that scholarship you were longing for and find yourself today with a huge student loan to pay? The million-dollar question about bankruptcy is almost always about student loans. So are they dischargeable?
This gets tricky. Typically, student loan debt is not dischargeable during bankruptcies, unless you can prove financial hardship. Unfortunately, proving 'undue hardship' is very difficult.
There are cases, though, when bankruptcy does help relieve the burden of student loan debt. An NPR story sheds light on how discharging student loans during bankruptcy is possible; a bankruptcy court slashed one woman's student loan debt in half (to $100,000) and gave her a 1 percent interest rate for most of the lowered amount.
If you're drowning in debt, bankruptcy may be your only way out of the financial struggle. However, understand that filing bankruptcy is costly and not everyone can qualify for Chapter 7. In addition, filing for Chapter 7 bankruptcy may leave any possessions at risk for being sold to pay off creditors if the value exceeds bankruptcy exemption amounts.
Filing Chapter 7 or Chapter 13 also will affect your credit score for years. Chapter 7 remains on your credit report for 10 years, and Chapter 13 remains for seven years. After filing bankruptcy, take measures to help improve and repair your credit, but always remember to be financially responsible. Once you file Chapter 7, in most cases, you cannot re-file again for eight years. So, any financial mistakes you make after filing could stay with you for many years.