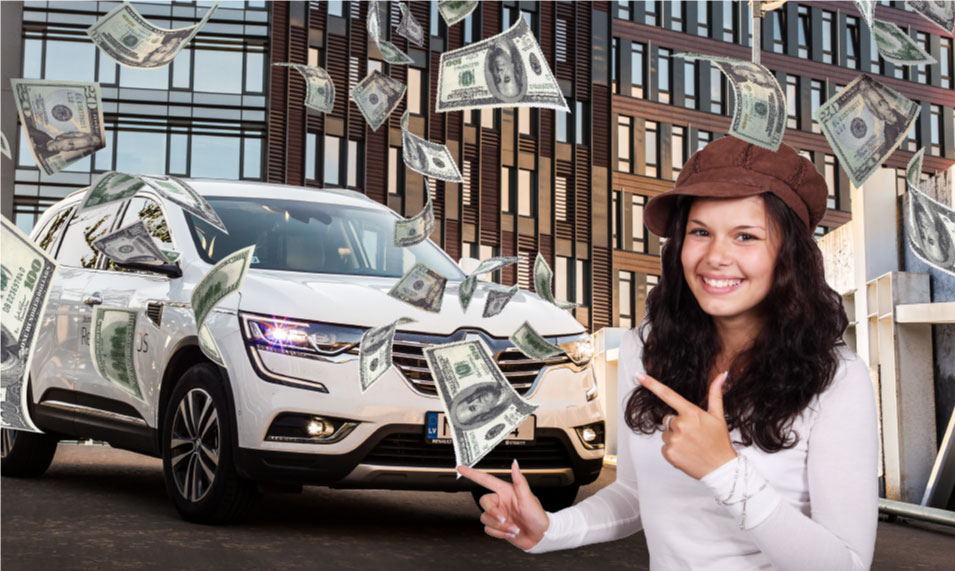 At 1(800)Car-Title® the amount of the car title loan is, in part, based on the value of your vehicle, not just your credit score. We provide a secured loan based on your ability to repay and the collateral of your car.
The application process is simple:
Fill out the application to the right
A loan officer will contact you right away
Send or bring in your documents and you can receive your cash fast.
You keep your vehicle and you are free to use the cash however you need to.
How Do Title Loans Work?
Car title loans use the title of your car as collateral. To apply for a car title loan, you need a vehicle in good working condition, proof of income and a clear title. Even if you are close to paying off your vehicle, you can still qualify for a car title loan with 1(800)Car-Title®.
The cash from your title loan can be used for anything you want, including school supplies, home repairs or medical bills. You continue driving your car during the term of your loan. 1(800)Car-Title® offers competitive interest rates for title loans and we offer low monthly payments with flexible terms.
Since you use your car as collateral, this means that you have the potential to borrow money. Even if you have bad credit you can apply for a title loan today! Here at 1(800)Car-Title® we understand that you might be in urgent need of cash. We have been able to loan money on the same day in the past for many of our customers!
Contact us today to learn more about our competitive rates on car title loans.
You can apply online by using our easy online application. If you prefer to apply by phone, call us toll-free at: (800) 227-8485
APPLY TODAY
So how do you qualify for a car title loan? The first step is to apply! This is a similar process as other loan applications. Your credit score will be reviewed and this helps us assess your credit risk and worthiness. A low credit score doesn't necessarily mean you can't get a loan, although a lower credit score may impact your interest rate for the loan and other terms on your loan. When you apply, we'll also determine the value of your car. Since car title loans use the car's value as collateral, the equity in your car is one of the biggest factors determining your loan amount.  You cannot borrow more than the value of the equity in your car. There also may be minimum loan amounts as well as maximum loan amounts that are determined by state laws and/or company lending policies.
So what affects your car's value?  The age of your car, mileage, make/model, and overall condition all help determine value. However, we'll also need to review the car title; salvage title vehicles cannot be used to secure a car title loan. If you don't have access to your vehicle's title,  don't worry. We can help guide you through the process of procuring your title!
You also don't have to use your primary vehicle to secure a title loan. You can choose to use the title for a motorcycle or recreation vehicle. However, there are typically borrowing caps for these vehicles.
GET APPROVED
Once we have all the information we need, you can speak to an experienced loan officer, who will guide you through the rest of the process. The process is quick and getting your cash on the same day isn't uncommon. Sometimes this may take longer depending on individual circumstances.
You also may discover that your loan amount is different than what was requested. Your loan is determined by the equity in your car. However, various factors will determine your exact loan amount, such as state laws. Even if your luxury automobile is worth six figures, that loan value might not be accessible. Lending laws may be different in each state.
There also may be other reasons why your loan value came back lower than anticipated. Higher mileage or other factors may decrease your car's value. Sometimes a newer economy car can be worth more than a much older and well driven luxury automobile. Many factors go into your car's resale value.
SIGN THE FORMS
Once you've reviewed all the terms and conditions of your loan, you need to sign the forms. The loan isn't complete without a signature! Once you've signed and submitted the forms, your loan is locked in. You will soon have access to the cash you need.
GET YOUR CASH
You've applied for the loan, you've signed the forms, and now it's time to secure the cash you need. Often, your cash from the loan should be available the same day you're approved. But some loans may take longer. If you're concerned about the timing of when your money will be available, don't hesitate to reach out to someone on the customer service team.
Once you've used the money from your loan, you need to begin to anticipate repayment terms. Remember, any amount that is borrowed must be repaid. Ideally, you should add the loan repayment terms into your monthly budget. This will help ensure that you've allocated the money each month to repay the loan on time.
CAN I REFINANCE ANOTHER TITLE LOAN?
Some borrowers might be struggling to repay a current title loan. Many wonder if refinancing a previous loan is possible. Yes, you can refinance a title loan! Refinancing may help you save money each month on the monthly payments. If you're concerned that the monthly payments are more than you can handle on your current loan, ask about refinance options. This can be especially beneficial if your credit score has improved. Speak to a loan officer to find out how you can lower your monthly payments.
DO I STILL OWN MY CAR?
One of the most common questions that borrowers ask is about the ownership of their car. Yes, you still own your car even when you take out a car title loan. But the title loan lender (us!) also is placed on the title as a 'lien holder.' This means that the lender also has a security interest in your vehicle. Once you pay off your loan, the lien is removed from the title. Typically, the lender will send a form stating that the lien has been released; you'll need to keep this document to show that the loan was repaid.  Many borrowers choose to re-title their car once the loan is repaid and the lien is removed; a new title will show that the lender no longer has a security interest in the vehicle.
And, yes, you can still drive your car when you have a title loan. Just remember to always meet the terms and conditions of the loan agreement and make payments on time. If you have an issue about a payment, call the lender. Always keep lines of communication open with your lenders; most lenders understand if/when an emergency happens. But communication is key if you need a lender to work with you.
HOW CAN I MAKE PAYMENTS QUICKLY?
Once you secure your cash and you're working on paying back the loan, you have many ways to make payments. Some borrowers prefer an automatic withdrawal each month to ensure their payment is on time. However, you also can make payments online or send payments through the mail. Online payments are typically easier for many, but always choose the payment method that best works for you.
Here's some more information regarding title loans.
More Resources