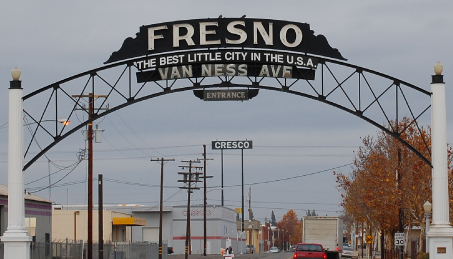 Fresno Residents can Borrow Up to $50,000 with Fresno Car Title Loans
Need cash for an emergency but have trouble due to bad credit? No worries. We can get you the cash you need with Fresno Car Title Loans from 1(800)Car-Title®.
How Do Auto Title Loans Work in Fresno, California
Many people run into money problems at some point in their life. Bills stack up, payments are missed, accidents happen, and budgets are overspent. 1(800)Car-Title® offer auto title loans to help you get the relief you need from those financial problems. If you live in Fresno, California, an auto title loan could be the exact thing you need to climb out of that financial hole. Also known as car title loans, auto loans help you get the funds you need for the expenses you're looking to pay off. Whether it's bills, missed payments, or a temporarily unbalanced budget, if you live in Fresno, a car title loan may be the thing that alleviates your financial woes.
The way car title loans work in California is simple. Like a regular loan, we look at various factors regarding your financial well-being and help you find out if an auto title loan is good for you. These factors can include anything from bank statements, source of income, and credit. In a regular loan, these factors would make or break a loan for a lender. At 1(800)Car-Title®, we still look at these factors, but they're not as important when taking out a car title loan. Why? Because when you, the borrower, apply for a loan with us, you use your Fresno, California car title as collateral. That makes those other factors less important when applying for a loan.
Keep Your Car While Spending Your Cash Loan
If you live in Fresno, you realize that having a car is more of a necessity than a luxury. With a Car Title Loan, we don't require you to give up your car – we use your car as collateral during the term of your loan.
Why Choose 1(800)Car-Title® For My Fresno, California Auto Title Loans?
What are the benefits of getting an auto title loan with 1(800)Car-Title®? For starters, you can get the money you need to fix the financial situation you find yourself in. If you qualify for the loan you can get the help you need to get you to your financial goals. You should work with us because we can help you get closer to where you financially want to be. We all need a little help sometimes and 1(800)Car-Title® is here for you.
We also understand that financial situations need to be resolved quickly. By getting an auto title loans in Fresno, California, you could potentially get a loan much faster than a traditional loan, which is just another great benefit to working with 1(800)Car-Title®. Many people ask about pre-payment penalties, and we are happy to say there are no downsides to paying off your loan before the scheduled time. As soon as you payback your loan there are no more further obligations on your part. The benefits of working with us are truly amazing.
What Else Does 1(800)Car-Title® Offer In California Besides Auto Title Loans?
At 1(800)Car-Title® we pride ourselves in our car title loans. However we also offer some variations of the title loan.
Refinance title loans – If you already have a car title loan you may be eligible to refinance. The benefits of refinancing an auto title loan that you currently have include a potentially lower APR, the possibility of borrowing more money, and a chance of lowering your monthly payments. Just give us a call right now to see if you are qualified to refinance your auto title loan..
Other Vehicles – Did you know you can potentially use other vehicles to get a title loan? Loan Center also provides title loans for other vehicles like motorcycles and RVs. Most people apply for car title loans because that's the type of vehicle they have a title for. But if you have a motorcycle or an RV, your loan officer can help you decide if either of those options would be better for what you need.
More Resources