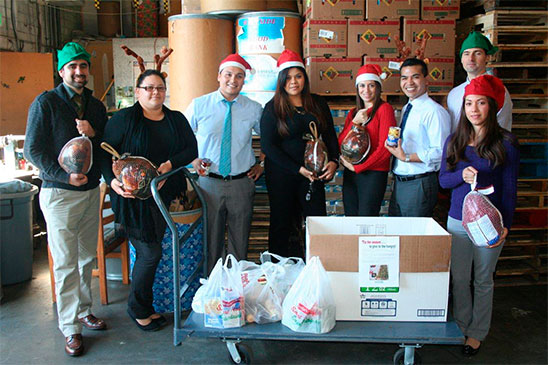 Wilshire Consumer Credit, a Los Angeles-based auto title loan company, donated 120 frozen turkeys to the Westside Food Bank in Santa Monica, CA. Representatives from Wilshire Consumer Credit visited the food bank on Wednesday, December 19th dressed in festive holiday headgear and met with food bank representatives for the hand off. In addition to the turkeys, Wilshire Consumer Credit (WCC) also donated canned goods and other dry foods.
The donation was made in response to the Westside Food Bank's Holiday Turkey Drive, with a goal of collecting 500 turkeys to help those in need in the Los Angeles area. WCC's donation accounted for over 20% of the food bank's goal. Jim Eyraud, Vice President of Wilshire Consumer Credit says, "We are proud to offer our support to the Westside Food Bank and commend them for their hard work and service to the community."
Allison Griffith, Director of Volunteer and Extra Helping Services, said, "We are very grateful for WCC's generous donation. Thanks to them, a lot of families will have food this Christmas." Founded in 1981, the Westside Food Bank feeds over 100,000 people per year. According to food bank representatives, this number increases by 40% during the holiday season.
Wilshire Consumer Credit provides loan assistance to people in need of fast cash. WCC offers Car Title Loans. A car title loan uses the consumer's vehicle equity as collateral for a loan. WCC offers the most competitive rates and flexible payment terms in the industry.
For more information on the Westside Food Bank, visit www.westsidefoodbankca.org.
Business Wire: Link
More Resources