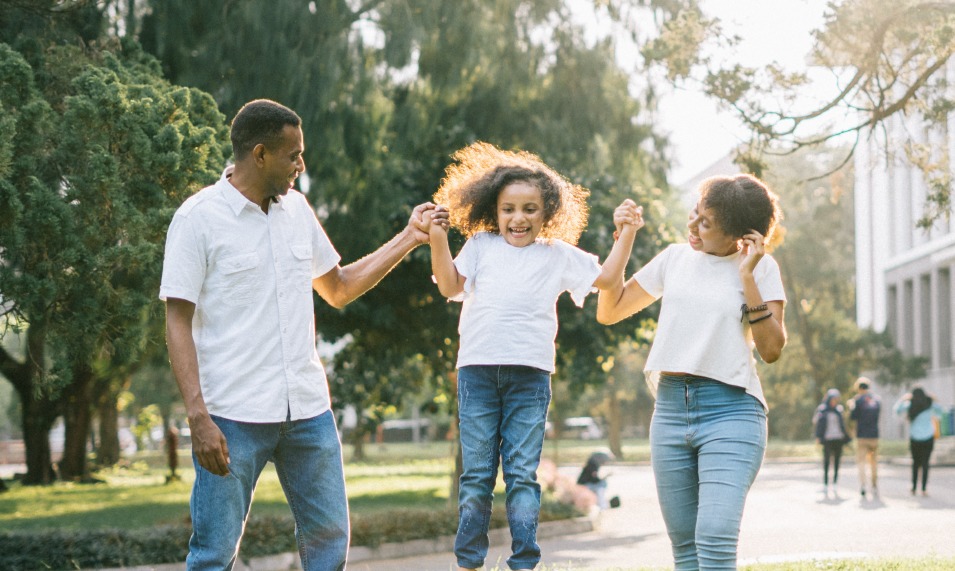 When the kids are at home on break, trapped indoors on a snow day, or home early because of 'staff development,' what do you do to keep them busy if you can't spend money?
There are lots of free opportunities in every city and state, but there also are so many ways to busting boredom at home. Think beyond tech gadgets and board games, because imagination is everything for embracing free time with fun! Here's how to spend more time with your family without spending money.
Family Fort Night
No, not the game! Younger kids love make-believe, and, at home, you can build your own hideouts, kingdoms and forts. This is a good activity when your kids are snowed in and you have nothing to do indoors.
So, how and where do you build the forts?
Basements are the ideal location, because, typically, they offer lots of space. But living rooms and dens are great, too. Create forts using kitchen or dining room chairs (you need four!).
Arrange the chairs in a square shape (two by two) with the backs of the duos facing each other. Then grab a large blanket or comforter and place it over the chairs like a canopy. This creates a small hideaway for young kids! You can line the inside with pillows and use a flashlight to light up the inside.
But for the most fun, don't just stop at one fort! Build several and then designate each area for a new activity or use them as bases for games. Since the best part is spending time together, parents should join in the fun. Use this special space to read a book with kids, to tell silly stories or to even have a unique area for dinner or snacks.
Spa Day
Use the free evenings to have a DIY spa day at home. Your kids may love having their nails painted, hair fixed or just having fun with face masks like mom or dad. For this fun night, be sure to prepare ahead of time. Depending on the types of spa treatments you choose, you may need to purchase ingredients.
Sugar Foot Scrub
You can mix up sugar scrubs for feet using white or brown sugar and coconut oil. There are many recipes for sugar scrubs online, but it's simple if you just want to wing it. Start with a spoonful of coconut oil (make sure the oil is room temp so it's solid) and then add a teaspoon of sugar. The scrub should be easy to spread, and you may want sugar depending on your own preference. You also can add in lavender oil or other essential oils for a special fragrance. This scrub can be used on feet before an at-home pedicure. Just be cautious, as sugar may tear delicate skin.
Fun Face Masks
Young kids typically don't battle acne or other complexion concerns, but they can still use a face mask for fun. Make yours out of wholesome ingredients found in your fridge and pantry. The easiest mask idea is simply…a banana! According to Reader's Digest, just mush up one banana, slather it on your face, and wash it off after about 20 minutes.
You also can combine honey and any oil for a simply sweet mask! The site Benefits of Honey offers up a recipe that calls for just a tablespoon of honey and a few drops of essential oil; spread it on your face evenly, and wash it off after 15 minutes.
Magnificent Manis & Perfect Pedis
After you've treated your feet to a sugary glow, you can make those toes sparkle with some pretty nail polish. Let kids pick out their favorite colors. But don't just do a basic one-color polish. Instead add fun stickers or paint designs. And don't hesitate to break out the glitter polish for a dazzling finishing touch!
Try New Hairstyles
If you're opting for a spa day, don't leave hair down and simple! Instead treat kids to a fun new hairstyle. Buy hair chalk to color strands with wash-out color. Let them pick out the hues they want for a whole new take on fun! Or braid hair and color different sections for an amazing design. Don't forget to take photos of your hair art!
This is also a great time to play around with different twists and plaits. Explore braiding techniques or create fun updos and let kids be princesses for a day! Looking great and having some banana/honey mixture on your face; truly a great cheap family activity.
Here's how to spend more time with your family without spending money – Part 2
Game On!
Host an indoor Olympics for the family during a boring night. You can arrange for your competition to have as many games as you want. You might even create medals out of colored paper to award to winners!
Obstacle Course
Set up an obstacle course using pillows and blankets. Then set your stopwatch and see who makes it through the obstacles the quickest.
Basket Toss
Another easy game at home is a DIY basket toss. Use a laundry basket or a small bucket (or even a coffee can) and set it up as your target. Then have kids (and parents, too!) toss rolled up socks. Whoever gets the most socks in the basket wins the game!
Race the Room
Want to burn off that indoor energy? Host races inside that don't involve running! Choose the largest room in the house and have kids race from end to end; instead of running or walking, though, participants should crab walk, crawl or even log roll. Just be sure to keep the room clear of any furniture with pointy edges or anything else that could cause a bump or injury!
Dance Off
Who will last the longest in the endless dance? Let the music play and dance the night away. The last one standing wins! Kids will have so much fun moving to the beat that they will wear themselves out…great for bedtime!
Themed Movie Night
Watching a favorite movie is fun, but for a truly memorable family fun night…theme it! This takes a little bit of advanced prep work, as you may have to make props or plan out a theme dinner. Any movie can be your theme, but choose the hits that your family loves.
For a "Frozen" themed night, opt for icy treats like popsicles and ice cream. Grab blue blankets and take pillows out of their cases to stand in for snow. Of course, hot chocolate with marshmallows is a must!
"Willy Wonka & the Chocolate Factory" also makes for a sweet movie night. Serve up chocolate bars, gummy bears, chocolate milk, and any other candy you can find. For dinner, heat up some soup; Charlie's family ate cabbage water (or soup)! Want to make your own cabbage soup, here's the recipe!
Want to spend the night together binge-watching the Harry Potter movies? Serve up butterbeer (you can substitute root beer), snack on jelly beans, and nibble on edible wands (pretzel rods). Since the students at Hogwart's enjoyed a delectable feast, you should too. Cook up your favorite family meal, but eat dinner by candlelight. A magical cheap family activity… and fun!
"Toy Story" is a constant companion for many kids, and most parents love these movies, too. While you might not have a Pizza Planet, you can order from your own favorite pizza place. Bake up a cake to celebrate Andy's birthday and bring out all your kids' favorite toys to join in the fun!
For many families, the price of admission to a local museum, theme park or even a movie theater is simply out of the budget. When kids are home during extended breaks or even have the day off because of a big snow storm, parents often will enjoy more free time as a family. Quality time is important for all families, but it doesn't have to come with a price tag. Instead, embrace DIY alternatives and creative games and concepts to turn free time into fun time.
Family time can—and should!—be free. Use your imagination to create unique and amazing adventures for your family in the comfort of your own home, because the best family memories are usually the simplest moments.
More Resources