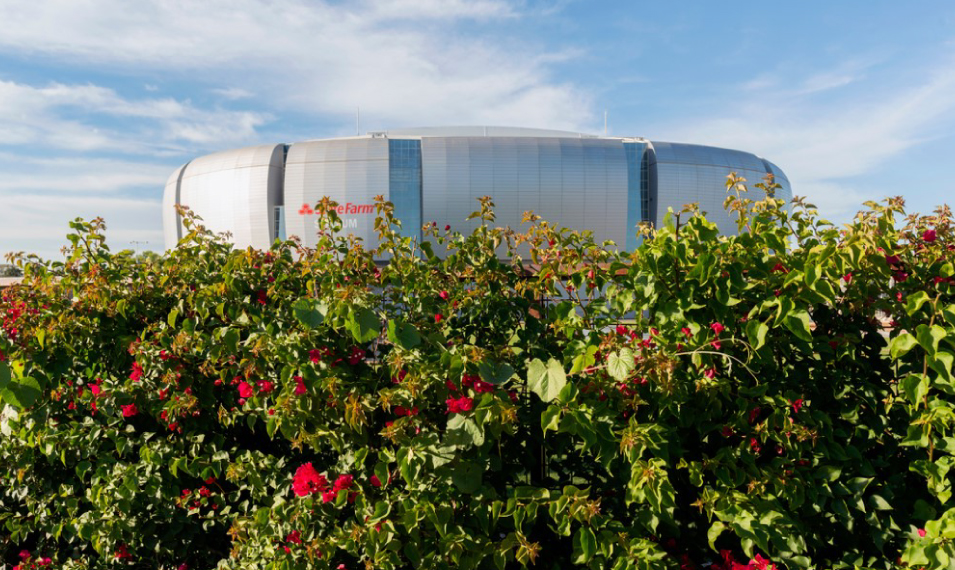 Glendale, Arizona, is home to more than 200,000 residents, and is known for being the home city for the NFL team the Arizona Cardinals and a surrogate home to the Chicago White Sox and Los Angeles Dodgers (for Spring Training). However, this southwest city also boasts many cultural and entertainment amenities for tourists, travelers and, of course, the Glendale citizens!
So what are the must-see destinations in Glendale? Obviously, if you're visiting during any sports season, you should buy tix to a game or two. But there are also many museums, parks and amazing sites that should be on the list for a Glendale trek.
Sports
State Farm Stadium (NFL)
The Arizona Cardinals play in an amazing stadium. What makes Glendale's State Farm Stadium ideal for spectators is the retractable roof. If the weather is nice (which it is often) you may spot some stars or just bask in the balminess of the city. However, if rain is in the forecast, there won't be a need for umbrellas or raincoats while enjoying the game.
Plan ahead and purchase tickets to a Cardinals game to enjoy Arizona's home team. While the 2018-2019 season is over, you can try to purchase tickets for the 2019-2020 season! Ticket prices will vary.
Camelback Ranch (MLB)
Both the Chicago White Sox and the Los Angeles Dodgers hold Spring Training at Camelback Ranch. Fans of these teams—or visitors to Glendale—can purchase tickets online. Eat some nachos, grab a soft pretzel and watch the game! And don't forget the Cracker Jacks.
Golf
Arizona weather is ideal for hitting the links. Glendale is home to many great golf courses, so don't forget to pack your clubs! Tee up at Desert Mirage Golf Course, Glen Lakes Municipal Golf Course or The Legend at Arrowhead.
Gila River Arena (NHL)
This Glendale arena hosts the NHL hockey team: the Arizona Coyotes. If you're in the mood to see some serious action on the ice, you'll want to score tickets to see the Coyotes. Of course, Gila River Arena also hosts concerts and other events during the off-season. KISS, P!nk and Sean Mendes are currently on the schedule for 2019.
Museums and Venues
This unique museum features exhibits of antique and vintage toys and dolls. Kids will love seeing all the treasured toys from years past and comparing them to their own favorite toys. The museum is closed on Sundays and Mondays. Tickets are $5 for adults, but kids gain admission for only $1.
For families or individuals who are music enthusiasts, visit the Musical Instrument Museum. This museum features exhibits like the Mechanical Music Gallery (or "instruments that play themselves"), a STEM Gallery and Conservation Lab, which shows visitors how the instruments are cared for and preserved. There is much more to see at this museum, and visitors can't miss a rockin' exhibit titled "The Electric Guitar: Inventing an American Icon" (it runs through Sept. 15, 2019). General admission (a one-day pass) is $20, but children receive discounts depending on their age. Visitors also may purchase 2-day passes.
Support the Blue and visit the Glendale Police Museum. The museum highlights a century of memorabilia and showcases the history of the city's police department. Admission is free of charge!
Parks & Gardens
Embrace the lush beauty of desert life. The Xeriscape Botanical Garden allows visitors to stroll through trails decorated with cacti and other native plants. Just don't touch the plants!
This is the city's main park, and it is host to many downtown events. Pay a visit and stroll through the park. Or head to Murphy during one of the city's big events!
Historic Sahuaro Ranch Park Area
According to the City of Glendale, this is one of the oldest ranches in the area. Visitors can take a tour of the buildings and stroll through the 17-acre property that also includes a rose garden and orchard. There is no charge for admission, check however opening dates.
This is a historic home located in Glendale that sits on several acres of land. Visitors can explore the property and take a tour of the buildings. A date grove also is located on the ranch, and, according to Visit Glendale, this is a popular spot for meditation.
Embrace four of your five senses at the Sensory Garden. See, smell, touch and hear the wonders of this unique garden for a unique sensory experience.
This is the ideal park for "bikes, boards, blades." If you want extreme fun, this is the park. Heroes features "bowls, banks, transitions and street components" for the ultimate experience. And, yes, admission is free to all! Just be sure to bring your helmet and protective gear!
Where to Eat
After all the sites, sounds and sports of Glendale, you need to feed your appetite. Here are a few great restaurants to visit for a taste of this city:
Classic Mexican fare like burritos, tacos, quesadillas and enchiladas. Prices are reasonable, and, if your kiddos are a little picky, there are plenty of options (like cheese quesadillas and classic beef tacos!).
A little more upscale but not outlandish, Cuff offers a variety of entrees. Yes, even burgers. Brisket, macaroni and cheese, BBQ Pork Ribs and a list of vegan options make the menu a hit for almost anyone. The Cuff Burger is $13, which is about the average price for the menu.
Wienerschnitzel (fast food chain)
Looking for local fast food that's good? If you don't live in an area that offers Wienerschnitzel, this is one drive-thru you need to try. The menu is centered around hot dogs, of course! But you also can order burgers and other sandwiches. Since this is fast food, the price should be right for tight budgets. The chili dogs are my favorite.
A restaurant list isn't complete without dessert. Almost everyone loves ice cream, so stop by Papa Ed's for a sweet frozen treat. The ice cream shop features a different unique flavor each month, so be sure to check out the newest addition. The regular menu features standards like Mint Chocolate Chip, Vanilla and Peanut Butter Cup. But for the more adventurous, try Cappuccino Splatter, Cranberry Orange Sorbet or Honey Lavender.
Glendale boasts numerous sites and entertainment options for visitors of all ages. Catch a football game, watch Spring Training or check out one of the many outdoor parks and gardens. This city also features numerous museums and historic sites. No matter where you visit in Glendale, be sure to check out one of the many local restaurants to quench your thirst and feed your appetite! Of course, if the weather is sweltering, don't forget your sunscreen in this desert locale!
More Resources