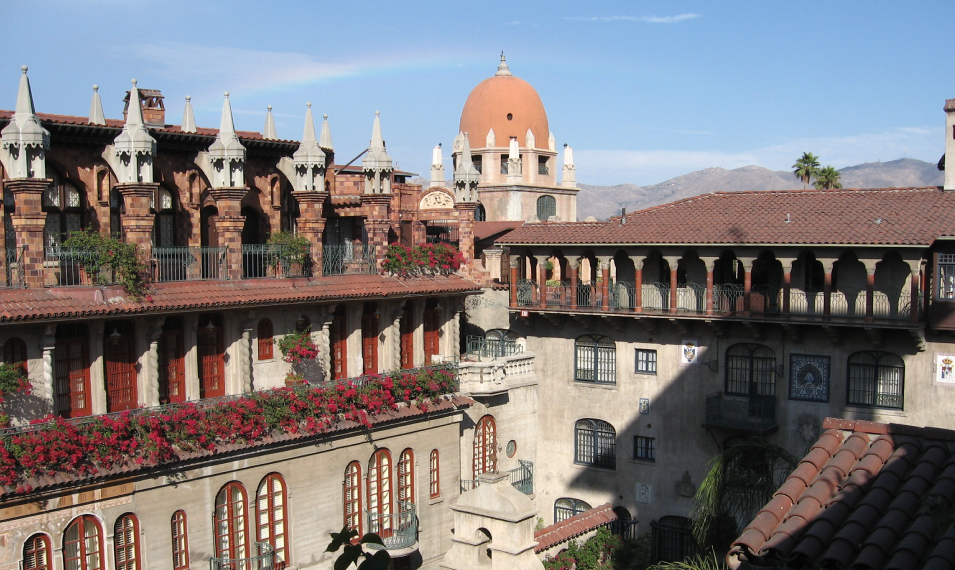 Although summer has officially passed, the weekends are still an ideal time to head out on a day trip and relax on a mini-vacation. One of the best locations for a day-cation—especially if you live near L.A.—is to trek out to Riverside, Calif. While this town isn't quite the hustle and bustle as the City of Angels, Riverside's quiet, charming and kid-friendly offerings make it the ideal day destination. Here's a day tripper's tour guide of Riverside!
A road trip to Riverside may take you about two hours—possibly longer depending on the grueling LA traffic. If you're planning a Riverside day, schedule to leave in the morning to ensure that you'll have an entire day to explore all the venues and attractions of this city.
While Riverside boasts a population of around 300,000 residents, for Los Angeles natives, this city will seem much more scaled down—and, yes, that's a good thing! So what activities and attractions should you check out on your day trip? Depending on how long you plan to stay, there is a long list of sightseeing opportunities that can keep you busy into the evening hours.
Here's our Day Trip Guide for Chilling Out in Riverside:
Museums
Riverside is home to many unique museums, but you might not have the time to check out each one. If you're in a time crunch, try to select two or three that make the top of your 'must see' list. Be sure to contact each location first to ensure that they are open—you don't want to recreate the scene from "Vacation" when Wally World was closed!
California Citrus State Historic Park
Orange you glad you chose Riverside? This unique park features about 400 acres filled with citrus trees. Check out the Visitor Center, which was built "as a replica of a packinghouse." The Visitor Center includes numerous exhibits and a gift shop. Of course, you absolutely need to stroll along the park's pathways and enjoy the amazing view of the entire park. Even though this site is popular with crowds, parking shouldn't be an issue.
The Heritage House was built in 1891 and is a Victorian-Style home. Take a tour of this stunning home and visualize what life was like during the turn of the 20th century. While the museum is free, donations are encouraged. The museum also recommends making tour reservations at least three weeks ahead of your scheduled visit. There is no charge for parking, which is provided behind the house. On a crowded day, however, you might need to park on the street.
If you have a plane enthusiast in your family, the March Field Air Museum is a must-see destination. This museum displays 70 aircraft plus more than 30,000 unique relics from the past, including letters, personal gear and uniforms. There also are exhibits on space exploration, a recreated Vietnam Firebase,  and Strategic Reconnaissance. Be sure to take a tram tour—the cost is only $3. However, general admission is $10 per adult (ages 12 and older), $5 for children (ages 5-11), children 4 years and younger are FREE, and so are those on Active Duty, Active Guard or Active Reserves (bring your card, though). And, yes, parking is free, although the museum's website notes that there might be a charge to park at major events. The museum also is closed on Mondays and certain holidays.
If you plan to stay at the historic Mission Inn, then you need to visit the Mission Inn Museum. The museum details the Inn's history, which began as a boarding house constructed from adobe brick. What makes this hotel so unique, though, is the incredible collection of art and treasures from around the world. Not staying at the hotel? Begin your journey with a visit to the museum and then take a tour of this historic Riverside gem. Call to inquire about tour times. You will need to pay to park–either at the meter or at the hotel garage.
Most major cities boast their own art museum, and Riverside isn't an exception. If you're an art enthusiast, you need to pay a visit. Current exhibits at the museum include "Anita Silvestri: Layered Views 2004-2018," "Donna Morin:part:counterPART," "4 Threads: New Work by Jamie Chavez, Gerardo Monterrubio, Jaime Muñoz, and Jaime "GERMS" Zacarias,"  "Uncovering Ancient Mexico: The Mystery of Tlatilco," and more. The Riverside Art Museum also will open the Cheech Marin Center for Chicano Art, Culture and Industry in 2020.  According to the museum's website, visitors can park at the lot or utilize metered street parking. Free parking is available on weekends or during the week after 5 p.m. (holidays also are free to park!).
Southern California Medical Museum
Learn everything you wanted to know about medicine at the Southern California Medical Museum. You can see replicas of doctor offices from the early 20th century, medicine bottles, crazy medical devices, surgical instruments, medical artwork, a medical library and more! Tours are available; the cost is $3 for children and students (older than 6) and $5 for adults (18 and older). Tickets are free for armed forces and their family (as well as WUHS employees and their families, per the site). Call before you visit, though, as reservations are required.
The Stahl Center Museum of Culture
This unique museum seeks "to share the vision of the Stahls and other medical missionaries." Ana and Fernando Stahl were missionaries who shared their knowledge of medicine with "the peoples of the Amazon and the Altiplano in Peru and Bolivia." Hours are limited; the museum is open only from 2 p.m. to 5 p.m. on Saturday. On Wednesdays, the hours are 9 a.m. to 3 p.m. You should be able to find parking on campus but be sure to bring change for a meter.
World Museum of Natural History
Located at LaSierra University, the World Museum of Natural History includes all aspects of the natural world. Exhibits feature sculptures and taxidermized displays of reptiles, bird, amphibians, mammals as well as exhibits of mineral spheres, meteorites, gems, petrified wood, Native American artifacts and much more. There's something for everyone, and the museum doesn't charge for admission. However, hours on Saturday are limited to 2 p.m. to 5 p.m. Parking should be available on campus, but always take meter money.
Family Parks
This park is one of the premier parks in the city. You can take a ride in the pedal boats on the lake, play a round of golf (9 holes) or just enjoy a leisurely picnic at the park! Of course, kids also can enjoy the park's playground or go fishing! This is the ideal place to gather after visiting a few museums so kids can run around and get out all that bottled up energy. This is a huge park, so you shouldn't have problems finding parking, but, again, never leave home without meter money! You should always play it safe.
Hunt Park & Bobby Bonds Park
These parks both feature skate parks that are suitable for all ages and skill levels. Grab your board and catch some air! Or try your skills on the stairs or street-like obstacles! Just don't forget your knee pads or your helmet! These parks are fun for all ages but understand that teens and more advanced skaters hang out here too. Younger children and beginner skaters should be closely supervised by a parent or guardian. If you get too sweaty after all those skate maneuvers, cool off in the pool–Bobby Bonds also features a public pool.
Looking for a little more 'amusement?' Visit Castle Park, Riverside's local amusement park. Featuring lots of rides and a water playground, Castle Park will keep kids busy all day. This park also features shows, carnival-type games, and mini-golf courses. Older kids will love the massive arcade. Tickets vary by price and package, but the most expensive option is under $20 per person. Buy meals online before your visit to save money! The price to park is $10 for each vehicle.
Mount Rubidoux
According to Green Adventures, Mount Rubidoux is "the most popular hike in Riverside." Featuring a 4-mile trail, this park is for avid hikers and is billed as "moderate" in difficulty. Want to feel the burn of the workout? There is a trail that offers a more difficult ascent. Or you can just stick to the paved paths! Don't forget your furry friends, as this park is open to pooches! Green Adventures notes that free parking is conveniently located at Carlson Dog Park or Bonaminio Park.
Where to Eat?
For many visitors, the quest to find great local food is part of the fun. There are lots of smaller restaurants in Riverside. Want to embrace your joie de vivre? Dine at Le Chat Noir for French cuisine and wine. TripAdvisor users also highly rated Simple Simon's and Market Broiler for local flavors. On a budget? TripAdvisor lists Greek Street Grill, The Tamale Factory or Mission Galleria as top reviewed options.
To Stay or Go?
If you're driving from L.A., you may consider staying the night to take in all the options of Riverside. The city has numerous hotels, motels, and other lodgings, but you'll need to set a budget for an overnight stay. Check out sites like Hotels.com or Travelocity to find the best hotel prices in the area. However, if you only have a day, then you'll have to prioritize the best options to maximize your day trip. Find your favorite museums and parks and then plan out your visit. If you want to see all that Riverside has to offer, though, you might consider booking a weekend trip.
Day trippers should plan to wake up early to head out to Riverside. Depending on traffic, the trip could take you two hours…or more (LA traffic is brutal!). Since there is so much to do and see in Riverside, you need to ensure that you don't crunch your trip. Remember, some museums or venues require that you make reservations ahead of your visit—sometimes three weeks early. And if you do plan on having a romantic dinner to end your day, call the restaurant in advance. Weekend reservations book up quickly and you don't want to risk not having a seat at the table! If you're taking kids (or furry friends), sit down and plan the trip as a family to make sure that everyone visits a destination on their list. Since Riverside is an easy day trip, if you don't see everything that you had planned you can always come back for another visit!
Find one of our locations here!
More Resources