What we serve up for the perfect Thanksgiving feast may depend on our culture, our family traditions and our personal palate. For many families, Thanksgiving dinner wouldn't be complete without the turkey. If you adhere to a vegan lifestyle, though, that bird is not on the menu.
Thanksgiving Day is all about being thankful, and your feast should reflect your personal beliefs and bounties. This year pardon the turkey and serve up these vegan Thanksgiving recipes for an ethical and tasty dinner.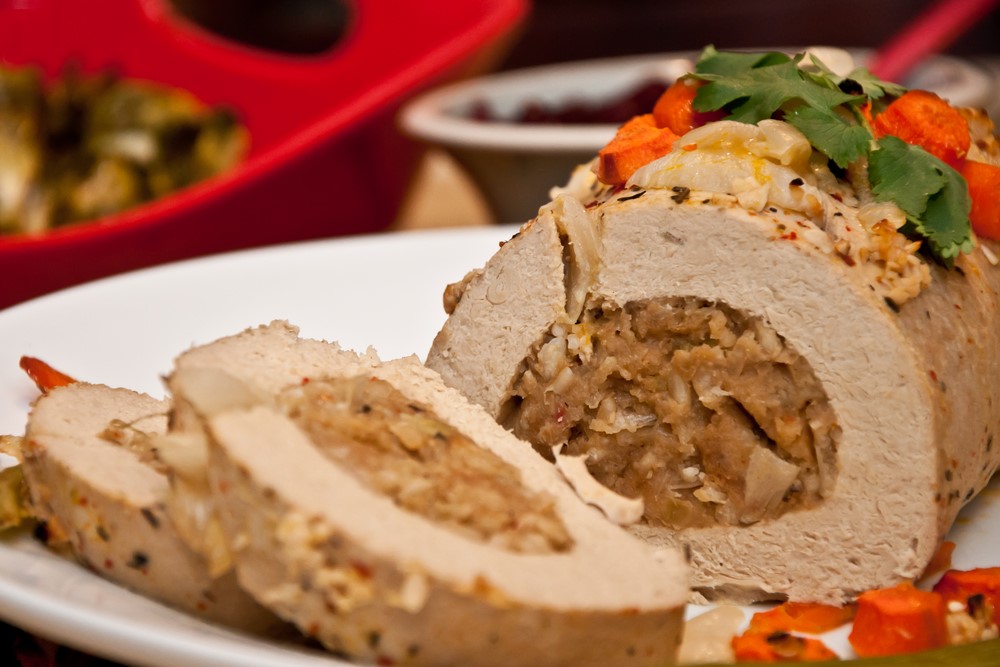 Tofurky
Tofurky is a vegan alternative and all products are "plant-based proteins"! Don't lump all alternative meat options as Tofurky, because the name is trademarked and describes one brand.
Many people note that the Tofurky roasts are a great alternative to the classic turkey staple. The company even offers multiple recipes for cooking Thanksgiving dinner with this meatless wonder as the centerpiece. Opt for an Orange-Glazed Tofurky Roast or Tofurky Holiday Roast with Bacon Crumble (yes, the bacon is vegan, too!).
Vegan Gravy
Oh, the gravy! Holiday dinners don't seem quite the same unless they are drowned in a pool of creamy gravy. What do you do, though, when you can't use the meat drippings to create that delectable topper for your potatoes?
Instead of using those not-so-savory drippings, grab some vegetable broth instead. Nora Cooks features a recipe for vegan gravy that calls for flour, soy sauce, Dijon mustard, onion powder, nutritional yeast, and veggie broth.
Vegan Mashed Potatoes
Yes, potatoes are naturally vegan. However, other ingredients that mix into those potatoes for a smooth mash typically are not vegan. Butter, milk and sour cream all come from animals.
Food Network includes a fast and yummy vegan mashed recipe. Use olive oil and unsweetened almond milk (or soymilk) to add creaminess, and Food Network recommends that you warm up the milk first. This recipe also calls for chives and garlic, but you can omit these ingredients if you don't like them.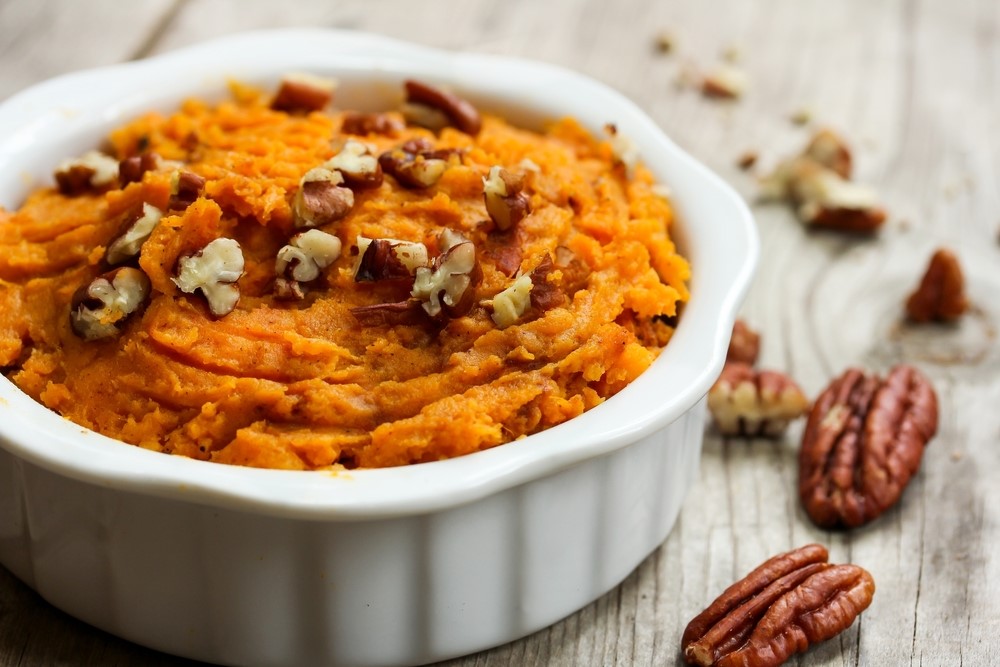 Vegan Sweet Potatoes
Like regular mashed potatoes, you can make mashed sweet potatoes using almond or soymilk. Sweetened plant milks will taste great if you're making the traditional sweet potato casserole. Mix in a little agave nectar and a little cinnamon and nutmeg—how much depends on your taste buds. You also can top your mashed casserole with vegan marshmallows and bake until golden brown (many recipes call for 350 degrees for about half an hour).
Vegan Stuffing
Stuffing tastes great mixed with Tofurky and potatoes—scoop them all up on your fork together for an amazing Thanksgiving flavor. The Minimalist Baker offers a vegan stuffing recipe that calls for savory full-grain bread, vegan butter, lentils, onions, celery, veggie broth, flax egg and sage. This recipe, per the site, requires you to dry out the bread overnight—for that crumbly stuffing texture that we love.
Vegan Green Bean Casserole
Cream of mushroom soup serves as the base for this crunch holiday dinner staple. However, many canned soups include animal-based ingredients. The Kitchen Girl solves the soup dilemma with a cream of mushroom soup that is completely vegan. The site also includes a recipe for vegan green bean casserole, but this version features caramelized onions for a sweet addition to the classic recipe.
Vegan Pumpkin Pie
Yes, pumpkins are vegan! The crust for traditional pie, though, is usually filled with butter and other non-vegan ingredients. It Doesn't Taste Like Chicken includes a vegan recipe that is quick and yummy. Grab a vegan pie shell (check your grocer's freezer section) and these ingredients (per the site): pumpkin, coconut milk, brown sugar, cornstarch, vanilla, pumpkin pie spice, cornstarch, cinnamon and salt.
Cranberry Sauce
Thanksgiving wouldn't be the same without cranberry sauce. Make your own, though, as those canned varieties often include gelatin—yes, this is an animal by-product.
Making your own sauce is pretty simple. The Food Network has a great recipe, and you can use fresh or frozen berries. The recipe calls for sugar, water and lemon (or orange) zest.
Other Must-Have Holiday Dishes
Some foods are naturally vegan. All fresh veggies support a vegan lifestyle. Add some vegan butter or olive oil and season with salt and pepper. You also may opt to make your own rolls, or, for simplicity sake, find dinner rolls that are vegan-friendly.
Do I have to serve a meat substitute?
There is no rule that states that your holiday meal must include a meat substitute. If you don't love plant-based roasts, don't serve them. Your holiday meal can include a variety of vegan side dishes; for protein, opt for bean-based dishes.
Unique Tastes, Unique Families
A Thanksgiving dinner menu differs per family and even by region. Your family may incorporate cultural tastes of the region or another country. There is no single menu option for this day of thanks. Create a menu that is distinct and delicious and that makes you and your family happy.
If you're new to the vegan lifestyle and are questioning which foods are vegan friendly, visit Vegan.com; the site offers a comprehensive list of vegan foods and links to recipes.
No matter what dishes are on your Thanksgiving dinner list, be sure to plan the menu in advance and create a dinner budget. Don't be afraid to ask friends or family members to bring a side dish, too. Depending on how many people you plan to host, you may want to start cooking a day ahead of the holiday. Pies and other baked goods may be the first items on your menu to prep and bake.
So how much should you spend on this delicious holiday? Look at your monthly budget and find out how much to allot for the day. Each family's financial circumstances are unique. To save money, opt for generic labels or shop at stores that offer private label brands. Many families find that leftovers are plentiful after a large Thanksgiving dinner, and you may eat on this feast for days.  The money you spend could be spread over multiple dinners and lunches.
No matter where you shop, always read the labels before you buy. Some ingredients that you think are vegan are not. When in doubt, make it at home using ingredients that you know are vegan-friendly. Happy holidays!
More Resources